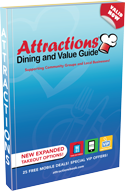 Serving Spartanburg County with Union and Gaffney Areas.
The Best Places! Better Than Ever! The Attractions® Dining and Value Guide has been the premier way to save money 22 years running. Each edition contains hundreds of buy one get one free coupons to the best places in your area.

288 pages.
Spartanburg 2021 contains $4,779 in savings!
$20.00 each
Selected favorites from Spartanburg 2021:
Fine Dining
Harvest House
Converse Deli
Two Samuels
Bangkok Thai Cuisine
Capri's of Boiling Springs
Casual Dining
Chicken Salad Chick
Tropical Grille
Local F.I.G. (Food Is Good)
M Fresh Asian Fusion
Mezcal Taberna Mexicana
Informal Dining
McDonald's
Bojangles'
Sonic America's Drive In
Burger King
Dominos Pizza
Fun & Savings
Dick's Sporting Goods
Old Navy
Hobby Lobby
Claire's
ICING